Vandaag ga ik een iets serieuzer artikel delen. Ik zou graag het thema depressie aankaarten. Ikzelf heb een lange periode met deze vraag gezeten "Depressie, en nu?". Ik heb besloten mijn ervaring te delen met jullie.
Dit artikel schrijven is eigenlijk niet zo gemakkelijk voor mij, omdat ik moet teruggraven in het verleden en al die gevoelens terug herbeleef. Ik merk dat er tegenwoordig meer en meer mensen in deze moeilijke periode zitten en zou graag een riem onder het hart steken door te laten weten dat ze niet alleen zijn in deze periode. Er is licht aan het eind van de tunnel!
Geloof je het niet? Lees dan verder en uiteindelijk zal je me gewoon moéten geloven.  

---
Depressie, en nu

? 
Wat is een depressie?
Depressie is een psychische stoornis (wat een lelijk woord!) waarbij de persoon gedurende een periode  een neerslachtige stemming ervaart en/of een verlies van interesse en plezier in de dagelijkse activiteiten. Naast deze twee hoofdsymptomen kunnen de volgende symptomen voorkomen: gewichtsverlies of –toename, niet kunnen slapen of juist te veel slapen, een gespannen en rusteloze houding of juist een geremde houding, vermoeidheid en verlies van energie, gevoelens van waardeloosheid en schuld, moeite met de concentratie en het niet kunnen nemen van beslissingen en gedachten aan de dood en aan zelfdoding.
Een depressie komt niet alleen voor bij volwassenen, maar ook bij jongeren. Onze huidige maatschappij legt teveel druk op ons en bepaalde situaties zijn letterlijk onhandelbaar. Een ophoping van bepaalde levensgebeurtenissen en stress kunnen de doorslag zijn voor een depressie. 
De ontkenningsfase.
Eerst is er de ontkenningsfase. Hoe opvallend de symptomen ook zijn, toch ga je deze ontkennen: "Ik in een depressie? Dat kan niet!". De mensen rondom jou merken dat je verandert en dat je minder van het leven geniet zoals ervoor. Toch wil je dit niet toegeven, want dan lijk je misschien te zwak in de ogen van anderen. Maar er tegen vechten werkt juist averechts. Je wordt er uitgeput van en je levensenergie geraakt op. Uiteindelijk wordt je wakker met een vreemd gevoel, een soort van leegte, waardoor je helemaal geen zin hebt om iets te doen. Zelfs de simpelste taken vergen teveel moeite. 
Het "Depressie-mannetje".
Om eerlijk te zijn was het Depressie-mannetje mijn beste vriend. Hij leidde me naar een donker plekje, een plekje waar ik alleen was en me niets moest aantrekken van alles
rondom mij. Het voelt alsof je gevangen bent genomen door je eigen gedachtengang, maar tegelijk voelt het ook veilig aan. Dat is natuurlijk niet zo, maar het Depressie-mannetje geeft je een vals gevoel. De ene dag gaat dan ook beter dan de andere dag, maar dat Depressie-mannetje blijft altijd op de loer liggen, klaar om aan te vallen wanneer je je beter lijkt te voelen. Je zit op een rollercoaster van emoties en het gaat allemaal zo snel. Al die negatieve gedachten zijn vermoeiend en ze zuigen je leeg. Negatieve dingen voedden dus het Depressie-mannetje.
Het is belangrijk dat je blijft omgaan met de mensen rondom jou, want alleen uit een depressie geraken is niet zo gemakkelijk. Het zijn net de mensen rondom jou die je een hand uitreiken in de hoop jou uit dat donker plekje te krijgen. Neem deze hulp aan! Blijf geloven in jezelf en laat je niet gaan tijdens deze moeilijke periode. Kom terug buiten wanneer je er klaar voor bent, spreek af met je vrienden en doe dingen die je voor de depressie leuk vond. Focus je niet op de angstgevoelens of op het "Depressie-mannetje", maar focus je op de positieve dingen in het leven. Zet vrolijke muziek op en zing luidkeels mee of kook je favoriete maaltijd of (vul zelf in..). Doe gewoon wat je graag deed/ doet! Stop met de negatieve factoren op te zoeken en focus je op het positieve. De wereld heeft zoveel te bieden.
Nu is het ook tijd om aan jezelf te werken: Wat wil je bereiken in het leven, Ben je gelukkig met je huidige job, Wat zou je anders willen zien aan jezelf of aan je leven, ..? 
In het begin lijkt dit allemaal héél onmogelijk, maar als je hard genoeg geloofd in jouw kunnen, dan kan ook jij een depressie overwinnen! Als ik dat kan, dan kan jij dat ook :).
---
Mijn verhaal: 

"Depressie, en nu?" 
Mijn depressie lag al een tijdje op de loer, maar sloeg pas na een lange tijd toe. In mijn leven heb ik enkele zware tegenslagen gehad, maar probeerde van niet volledig toe te geven aan de gevoelens van onrust, boosheid en verdriet. Op een gegeven moment had ik zoveel haat voor mezelf en de gedachten die ik had gaven me een bang gevoel. Toch negeerde ik ze…
In 2013 vond ik een nieuwe job waar alles goed leek te gaan. Toch was het Depressie-mannetje sterker dan mezelf. Ik was ongelukkig op die werkplaats en mijn bazin behandelde me letterlijk als een stuk stront (mijn excuses voor het taalgebruik). Na 2 jaar wouden ze mij zomaar ontslagen – zonder geldige reden! – maar uiteindelijk lieten ze de keuze aan mij: "Blijf ik hier werken of neem ik mijn ontslag?". Natuurlijk kon ik niet zomaar mijn ontslag geven, want anders verloor ik mijn rechten én inkomen. Tegen mijn zijn bleef ik hier werken en ik voelde dat ik al mijn energie in dit werk stak. Hier wou ik écht niet meer blijven, maar ze gingen mij ook niet ontslagen. Ik zat letterlijk vast op mijn job!
Ondertussen had ik nog andere tegenslagen die ik niet kon verwerken. Al deze stressfactoren zorgde voor nog méér ongelukkige gevoelens en ik kreeg meer last van maag- en darmproblemen. Van zodra ik 's ochtends opstond begonnen deze te protesteren. Het was alsof mijn lichaam wist wat er mij die dag te wachten stond, maar toch ging ik door.
Natuurlijk kan niemand dit volhouden en uiteindelijk kraakte ik: Ik kwam net toe op het werk en een collega deed meteen onbeschoft tegen mij. Hij wou niet dat ik me eerst installeerde en de pc opstartte, ik moést hem NU helpen! Dat was dé druppel en ik kreeg een woede-uitbarsting. Dit was het moment dat het Depressie-mannetje helemaal naar binnen geslopen is en ik belande in zowel een burn-out als in een depressie. Ja, dat kan dus écht!  
Op een andere ochtend stond ik op en begon ik zomaar te wenen, ik was op en alles in mij blokkeerde. Vanaf dat moment ben ik niet meer teruggekeerd naar het werk. Mijn huisdokter verwees me door naar een therapeut en naar het syndicaat om een dossier op te stellen tegen de pesterijen van dit bedrijf.
Dat heb ik dan ook gedaan en dankzij goedkeuring van de arbeidsgeneesheer geraakte ik eindelijk verlost van mijn werk. In maart 2016 was ik eindelijk VRIJ!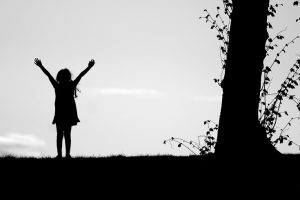 Natuurlijk was ik niet meteen 'genezen', dit had tijd nodig. Stapje per stapje werkte ik aan mezelf en aan mijn geluk. Zo leerde ik terug te genieten van het leven en voelde ik opnieuw gevoelens van warmte en geluk.
2016 was het jaar dat ik koos voor mijn geluk.
Ik had deze zware periode ook nooit doorstaan zonder mijn vriend en de mensen rondom mij. 
Tot slot..
Ik moet toegeven dat ik een emotioneel iemand ben en dat ik moeilijk met negatieve gevoelens/ situaties kan omgaan. Ik heb soms nog zware dagen en dan ben ik altijd bang dat het Depressie-mannetje terug naar binnen gaat sluipen, want hij ligt nog steeds op de loer. Mijn rollercoaster van emoties is niet meer zo heftig als voordien, ik kan mezelf terug kalmeren na enkele uren, maar fysiek blijft dit zwaar. I
k bekijk elke dag als een nieuwe dag met nieuwe kansen en mogelijkheden, want elke dag is anders en er zijn zoveel dingen waarvan ik gelukkig word. Wanneer ik het moeilijk heb, ga ik bijvoorbeeld wandelen of iets bakken. Zelfs de kleinste dingen, hebben het grootste effect. Geef het Depressie-mannetje niet het gevoel dat hij nog een kans maakt, maar leef je leven zoals jij dat wilt én wees trots op jezelf, want als jij deze depressie kan doorstaan, dan kan je alles aan!
En onthoudt: Je staat er niet alleen voor!
Liefs, 
Debby ♥