Eerder deze week deelde ik een lekker receptje voor Chocomousse waarop enkele reacties kwamen met de vraag of er een vegan variant bestaat. Natuurlijk bestaat deze en om eerlijk te zijn is het iets dat ik regelmatig maak. Soms maak ik er een Healthy Chocomousse Nicecream van, maar vandaag gaan we het simpel houden met deze Vegan Chocomousse. 
Het recept op zich is heel gemakkelijk en je hebt maar 4 ingrediënten nodig. Ik beloof je, dit tussendoortje/ toetje is om je vingers van af te likken!
Recept

: Vegan Chocomousse (2 pers.)
Ingrediënten:
1 rijpe avocado
1 rijpe banaan
1,5 el cacaopoeder
Scheutje plantaardige melk
Optioneel: honing of Stevia suiker
Benodigdheden:
Bereiding:
Doe alle ingrediënten samen in een blender.
Voeg de honing of Stevia toe naar smaak.
Mix tot je een smeuïge massa verkrijgt.
Als je mengsel nog te dik is kan je wat extra melk toevoegen.
Schep de vegan chocomousse in potjes of schaaltjes.
Werk af met een blaadje munt, amandelschaafsel of geraspte/ fijngehakte pure chocolade.
Serveer als nagerecht of tussendoortje.
Tip: Als je de vegan chocomousse liever wat koeler hebt, kan je het even in de koelkast plaatsen alvorens te serveren.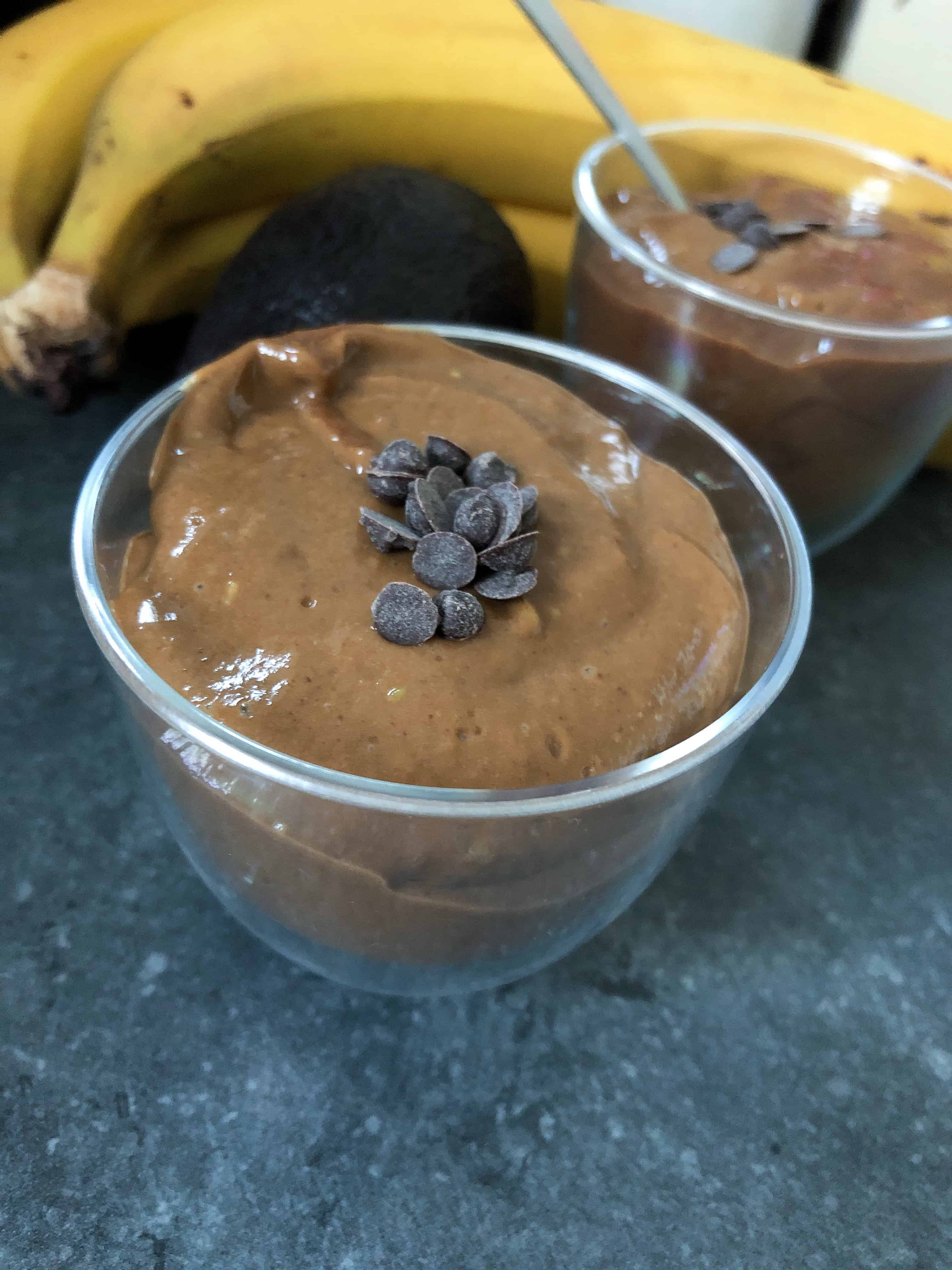 Je kan deze vegan chocomousse ook maken zonder blender, maar dan heb je niet zo een smeuïge textuur:
Plet de banaan en avocado fijn (met bv. een pureestamper);
Voeg het cacaopoeder, de melk en zoetstof toe;
Meng alles onder elkaar en schep in een kommetje of potje.
---
Ga jij deze vegan chocomousse proberen?
Liefs,
Debby ♥