Enkele dagen geleden zat ik met de bakkriebels en een overvloed aan rijpe avocado's. Je kan zoveel kanten uit als het om avocado recepten gaat, denk maar aan gezonde brownies of een Healthy-chocolate-nicecream. Nu had ik eigenlijk zin in iets helemaal anders.. Ik wou avocado-chocolade cupcakes.
Avocado en chocolade is een match made in heaven, geloof me! Deze cupcakes zullen je sowieso overtuigen en je zal er van smullen. Pas op, ze zijn verslavend! Na je eerste cupcake wil je sowieso nog een tweede nemen.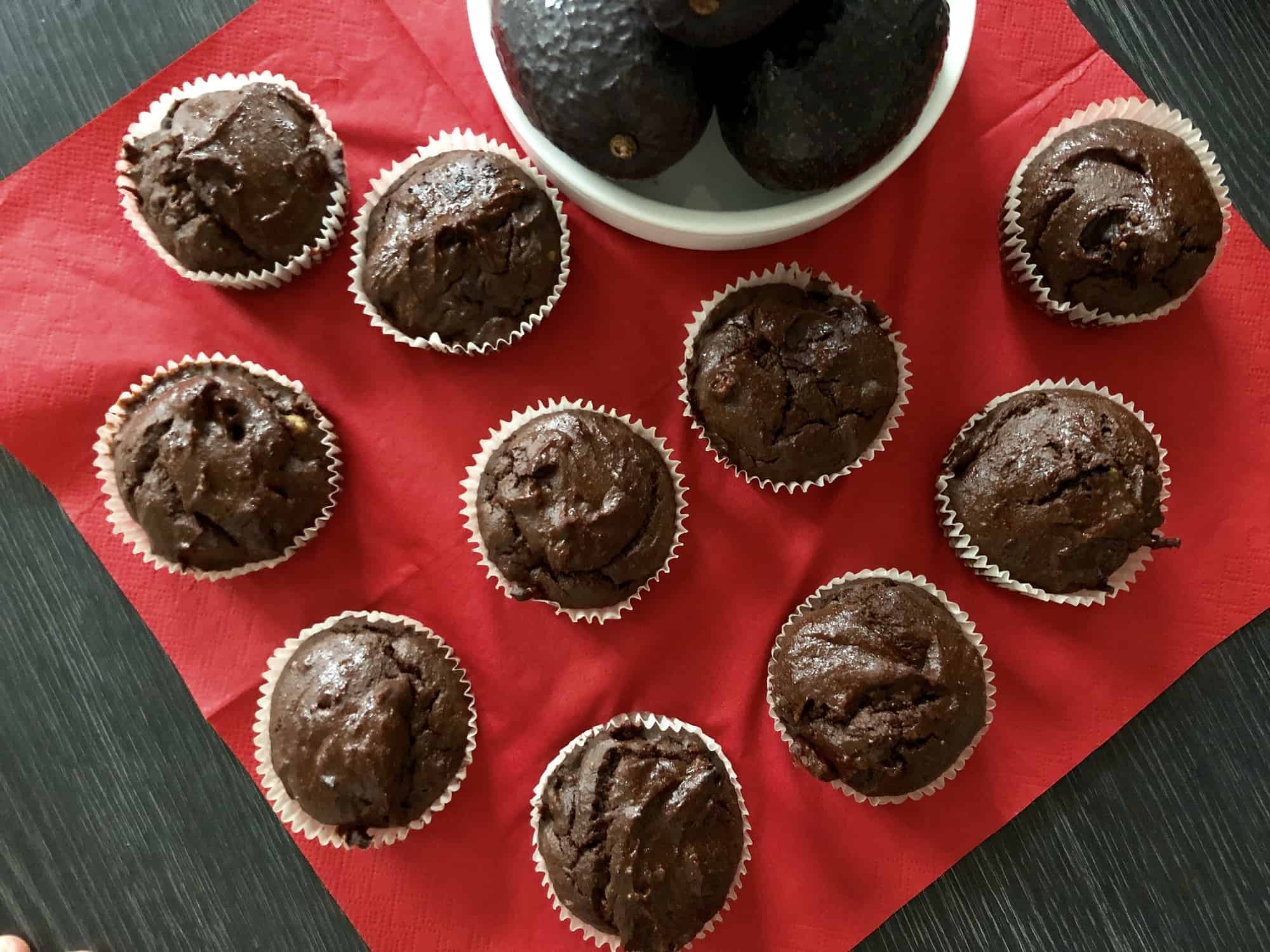 "On a glum day, I am a firm believer that chocolate & avocados can bring you pure organic joy." 
Recept: Avocado-Chocolade Cupcakes
Ingrediënten:
150 g geplette avocado (ongeveer 2-3 medium)
135 g kokosbloesemsuiker
240 ml plantaardige melk (ik gebruikte vanillemelk)
2 tl vanille essence
2 eiwitten
260 g speltmeel
50 g cacaopoeder
1 tl bakpoeder
1/2 tl zout
Bereiding:
Verwarm de oven voor op 175°C en vet enkele cupcakevormpjes in met bakspray.
In een mengkom doe je de geplette avocado, kokosbloesemsuiker, plantaardige melk, vanille essence en eiwitten. Mix met een handmixer tot een vloeibare massa.
Voeg het speltmeel, cacaopoeder, zout en bakpoeder toe en meng tot een smeuïge massa.
Vul de vormpjes tot 3/4 met het deeg.
Plaats de Avocado-Chocolade Cupcakes in de oven en bak 15 à 18 min.
Laat de cupcakes even afkoelen op een rooster.
Serveer met een kop thee of koffie.
Houdbaarheid:
Bewaar de avocado-chocolade cupakes in een afgesloten doos
– op kamertemperatuur: 2 dagen.
– in de koelkast: tot 1 week.
Meer avocado recepten? Neem eens een kijkje op deze pagina.
---
Zou jij deze Avocado-Chocolade Cupcakes proberen?
En wat vind jij van de combinatie chocolade en avocado? Laat het me weten in onderstaande comments. 
Liefs,
Debby ♥
---