Vandaag bakken we Muffins met chocolade chips en kaneel. Je kent wellicht dat soort dagen waarop je energiepeil laag is, je goed humeur ver zoek is en je liever de hele dag onder een warm dekentje kruipt? Deze dagen heb ik regelmatiger sinds de herfst zijn intrede maakte. In plaats van de hele dag te niksen, ga ik liever aan de slag in de keuken. Want zeg nu zelf, van bakken of koken wordt je toch instant blij? En wat is er heerlijker dan een woning dat ruikt naar een versgebakken baksel, zoals bv. muffins met chocolade chips en kaneel? 
Het gedacht alleen al bezorgt me een blij gevoel. Nu jij nog!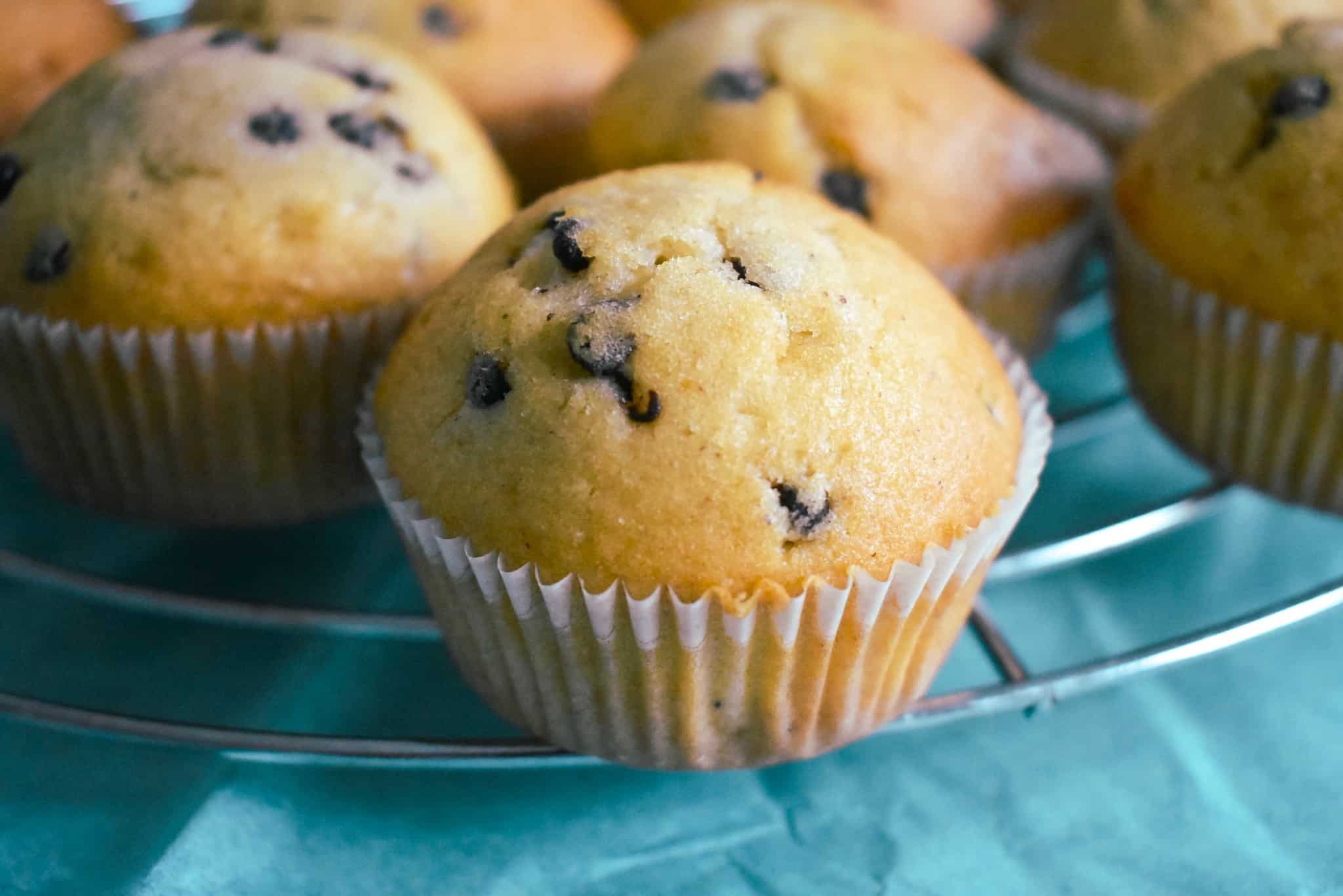 Recept : Muffins met chocolade chips en kaneel
(12 à 16 stuks)
Ingrediënten
De droge ingrediënten : 
300 g. bloem
150 g. suiker
4 tl. bakpoeder
1/2 tl. zout
2 tl. kaneel
1,5 tl. vanillepoeder
De natte ingrediënten: 
2 eieren
200 ml. melk
100 ml. neutrale olie
1,5 tl. vanille extract (indien je geen vanillepoeder gebruikt)
Voor de vulling: 
Benodigdheden: 
muffin bakvormen
2 mengkomen
spatel
papieren muffinvormpjes
bakspray of boter
Bereiding :
Verwarm de oven voor op 200°C.
Plaats 12 papieren muffinvormpjes in een muffinvorm.
Meng in een kom alle droge ingrediënten door elkaar. In een andere kom de natte ingrediënten.
Doe de natte bij de droge ingrediënten en meng dit tot een beslag.
Spatel tot slot de chocolade chips door het beslag.
Vet de muffinvormpjes in met boter of een bakspray en vul ze tot bijna bovenaan met beslag.
Bak de muffins 20 à 25 min. goudbruin en gaar.
Haal de muffins met chocolade chips en kaneel uit de vorm en laat ze afkoelen op een rooster.
Smullen maar!
Maak jij binnenkort deze lekker smeuïge muffins met chocolade chips en kaneel klaar?