Hi my yoga friends! Have you ever heard of Manduka? It's a well known brand that sells quality yoga mats. Maybe you have seen them on Instagram, because that is where I found them. Also a few of my international yoga friends own a Manduka yoga mat and are very happy with it. Their opinion combined with how kind my contact person was, made me feel excited about collaborating with Manduka. It's a big name in the yoga community and I am very grateful for having the opportunity to work together with them!
So I guess you can already imagine how happy I was when my Manduka yoga mat arrived a while ago. I've been enjoying it so much and have decided to finally share a review. 
But first of all, what do I expect from a yogamat?
A yoga mat needs to be from good quality, because you are going to spend many hours on it. This means the material is of great importance for grip, structure, cushioning, durability, comfort and environmental friendliness. Of course there are many different materials for yoga mats, which means you will need to keep in mind that it's a matter of personal preference and how the material reacts to your body.
A good yoga mat may be pricey, but believe me when I say "It is so worth the investment!". A cheap one is great when you're starting your Yoga journey, but after a few months or a year you will feel the need to improve your yoga practices by investing in a better mat.
Review

: Manduka Yogamat
I was gifted the purple Manduka PRO Travel mat, which is meant to take with you on vacation or on the go. But it is also perfect if you're only practicing Yoga at home. At first I thought "Oh this yogamat seems thinner than what I'm used to. Let's try it out to see how it feels!", but must admit it is a nice experience to be this close to the Earth. The cushion is good and gives me the support I expect from a yoga mat. Also I don't feel any discomfort in my poses, which is also very important.
In case you do need some extra protection, I would recommend to create a little 'speedbump*' in your mat.
*Fold a piece of your yoga mat over each other to get a thicker cushion. You can also add a towel or extra protection under your knee. 
The mat is Medium grip, which means you won't slide away easily. When you are sweating during a more advanced Yoga practice, you can experience some sliding away as the grip gets more difficult. But it's nothing bad compared to a cheaper yogamat I own.
And the design?
Well… I just love it! On the right corner at the top of your yogamat, you will see the Manduka logo, which is a frog. The material itself has a lovely feeling and feels non-slippery. The size of the Pro Travel mat is 180 cm., which is long enough for tall people. The bottom has a dot pattern to make sure your mat stays put.
Cleaning your yogamat:
Cleaning your yoga mat is so important, because you're spending so much time on it. It's always nice to experience a fresh yoga practice, right? I must admit that cleaning my yogamat is something I only started doing a few months ago (I know, shame on me!). You need a yogamat cleaner and damp clean micro fiber towel (or cloth) to wipe your mat clean and let air-dry for a while. NEVER USE WATER OR SOAP! This Pro Travel yoga mat is easy to clean on both sides.
My yoga experience on my new Manduka yoga mat
So far I am enjoying my Manduka yoga mat. I mostly practice at home and sometimes my yoga mat joins me in my Private Yoga Class. I refuse to take it with me to my classes at the gym, because I don't want it to touch other people's sweat (yup, I am thàt kind of a person 🙈).
The mat is from good quality and I can easily transfer from one pose into another without experiencing any discomfort. I don't feel like sliding away or sticking onto the mat, unless I take my practice to an intensive/ advanced level. In this case it might happen that you will slide away a little, so make sure to keep a towel with you.
The weight of the mat is not heavy, because it is lightweight. For me it is just perfect to transport. And you can also fold the mat into your luggage without damaging it. Isn't that awesome?!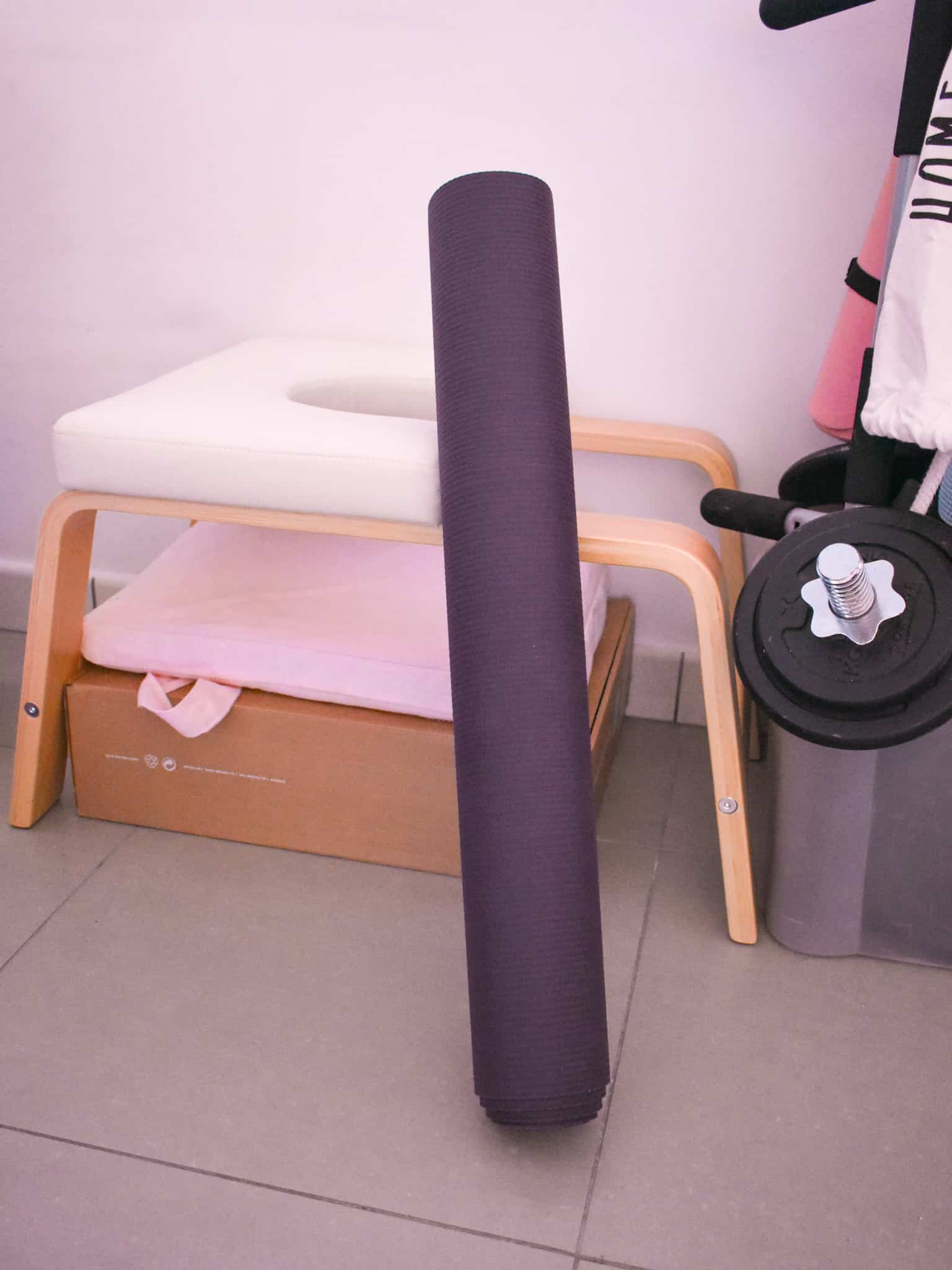 ---
More information about the Manduka Pro Travel yoga mat
Some characteristics:
71″ long x 24″ wide⎜180 cm long x 60 cm wide
3/32″ thick⎜2,5 mm thick
Closed-Cell Construction: closed-cell construction prevents moisture, sweat and dirt from absorbing into the mat surface and cleans easily
Top: performance grip to optimize your practice
Bottom: proprietary dot-bottomed grips to the floor to stay put in any surface
Light weight: easy to transport and fold
Travel friendly: packable in backpack, tote or carry-on
Easy to clean: top and bottom surfaces rinse easily
Dense cushion: high-density cushion and support 
Durable: guaranteed to never wear out from yoga practice
Mindful: non-toxic emissions-free manufacturing and 100% latex free
How to love your (new) Manduka yoga mat:
Keep your mat in the best condition by wiping it down after every practice with a yogamat cleaner. DO NOT soak, shower or submerge in water!
Roll your mat with the top side facing outwards. This keeps the corners of the mat flat when practicing. Store the mat horizontally.
Manduka guarantees that this product is free of manufacturer defects and, under normal use, will last a lifetime. For more information, visit www.manduka.com/us/lifetime-guarantee
---
Also make sure to visit their
Website and Social Media pages: Instagram – Facebook
---
**This blogpost contains a gifted yoga mat