Brownie Cookies that are chewy and crunchy at the same time, but also allow you to imagine like you're floating on a soft cloud of chocolate? Oh my goodness, yes!! You can count me in! nd what about you? Are you ready to lick off your fingers after preparing this yummy guilty pleasure? 
The recipe itself is very easy to follow and to bake. You could even make a parent-kiddo moment out of it by baking these brownie cookies together with your little ones. Sounds like a perfect at home activity, right? Now let us bake some yumminess! Ready? Here we go! 
Recipe

: Brownie Cookies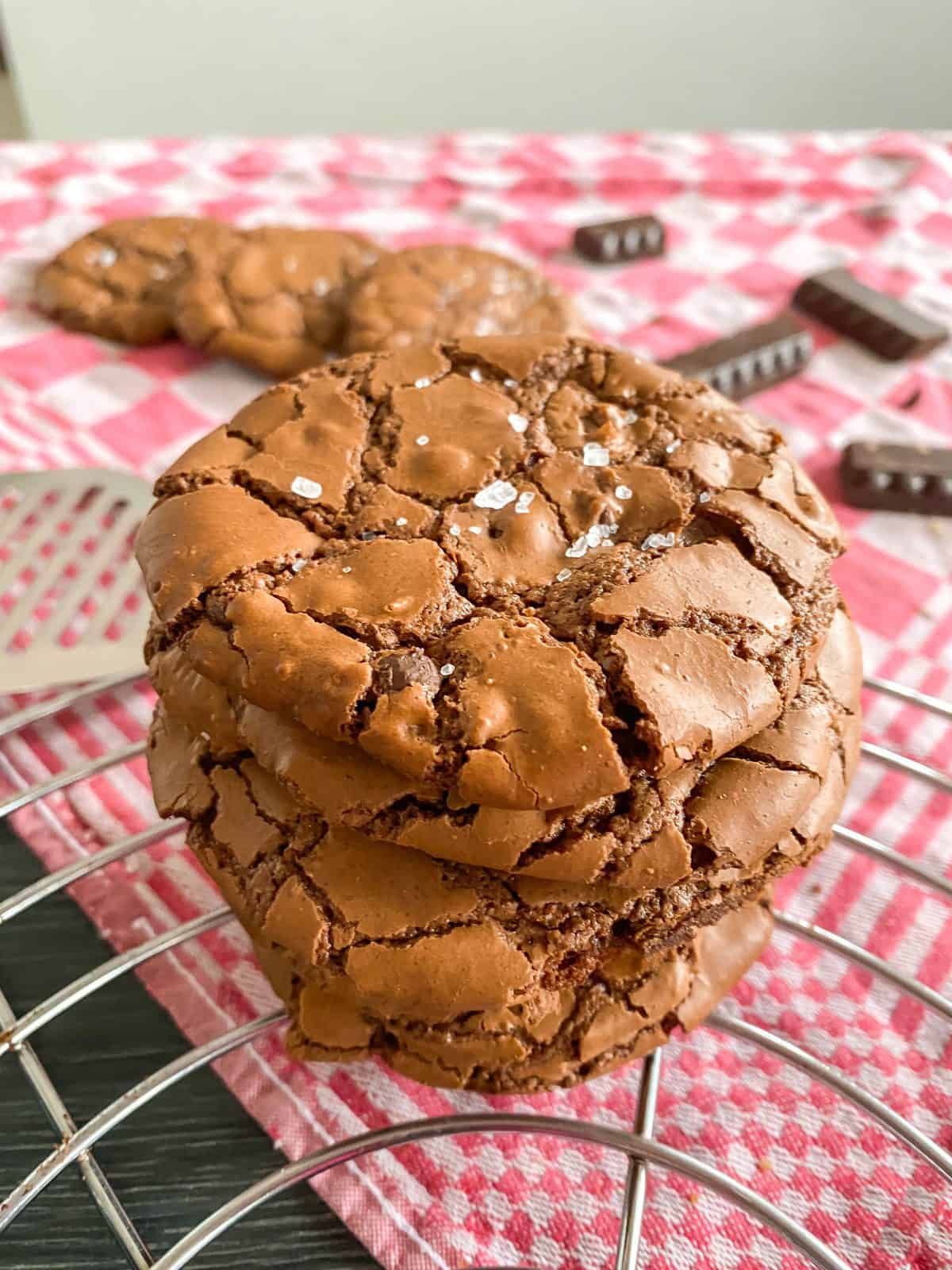 Ingredients
225 g. dark chocolate
60 g. butter
95 g. self-raising flour
2 eggs
1 tsp. baking powder
1 bag of vanilla sugar (= 10 g.), or 1 tsp. vanilla extract
100 g. white sugar
90 g. light brown sugar (I used 70 g. light brown and 20 g. brown sugar as I ran out of the first one)
Chocolate chips
Pinch of salt
Sea salt
Kitchen Supplies
Bain-marie (= 1 big pot with simmering water + 1 small pot for melting the chocolate)
Baking tray covered with baking paper
2 tablespoons
Hand mixer
Preparation
Melt the chocolate and butter together "au bain-marie" and let cool off for a bit.
Preheat an oven to 175℃.
Mix the flour, baking powder and a pinch of salt together into a bowl.
Take another bowl to mix together the eggs, vanilla sugar or -extract and the white- and light brown sugar together until the batter becomes more creamy and thick.
Add the melted chocolate-butter while stirring the creamy mixture.
Little by little add the flower to the batter as you continue to stir.
Now add chocolate chips to desire.
Scoop the batter onto the baking tray by using two tablespoons. Make sure to leave enough space between the cookies.
Bake in the oven for ± 10-15 minutes (I went for 15 minutes). The top of the Brownie Cookies will crack open once they're ready.
Allow them to cool on a cookie rack.
After ± 10 minutes sprinkle some sea salt over the cookies.
Enjoy!
Did you enjoy making these Brownie Cookies and are you looking for more tasty snacks? Then go check out

this page

for more yummy inspiration and recipes. 
Feel free to share your creations on Social Media and to tag me in your content ♡
(IG: @debby_the_chocoholic or FB: Debbythechocoholic)