Vanmorgen maakte ik voor de eerste keer een Appeltaart Smoothie klaar. Een waar feestje voor de smoothie- en appel liefhebbers onder ons!
Zij die me al lange tijd volgen op Instagram, weet dat ik vaak lekkere smoothiebowls deel op mijn account, @debby_the_chocoholic. Meestal gooi ik wat ingrediënten samen in een blender en laat ik me verassen door mijn eigen smoothie creaties. Maar vanmorgen was dit anders, want ik bruiste van inspiratie en dacht een innovatief recept uitgevonden te hebben (wat dus niet zo was… Het was fijn van even te kunnen dromen 😜)
Recept: Appeltaart Smoothie
Ingrediënten:
½ bevroren banaan
1 rijpe banaan
1 à 2 el. appelmoes
kaneel
1 el. rozijnen
25 g. havermout
200 ml. soya melk (of een andere plantaardige melk)
Toppings: 1 handje blauwe bessen, 2-3 aardbeitjes, ¼ rijpe banaan
Benodigdheden:
Een blender
Smoothie glas of ontbijtkommetje
Bereiding:
De avond voordien snijd je een rijpe banaan in stukken en vries je deze in.
's Ochtends haal je de helft van de bevroren banaan uit de vriezer.
Neem een nieuwe rijpe banaan en snijd ¼ in kleine stukjes.
Was enkele aardbeien onder koud stromend water en snijd ook in kleine stukken.
Doe de rest van de rijpe banaan (=  ¾ banaan), samen met de havermout, melk, kaneel, appelmoes en rozijnen, in een blender.
Mix of pulse tot een stevige, vloeibare massa.
Gooi een handje vol blauwe bessen op de bodem van je smoothie glas of -bowl.
Giet er de appeltaart smoothie over.
Werk af met stukjes aardbei en banaan, en strooi wat kaneel bovenop je topping.
Geniet van je ontbijt party!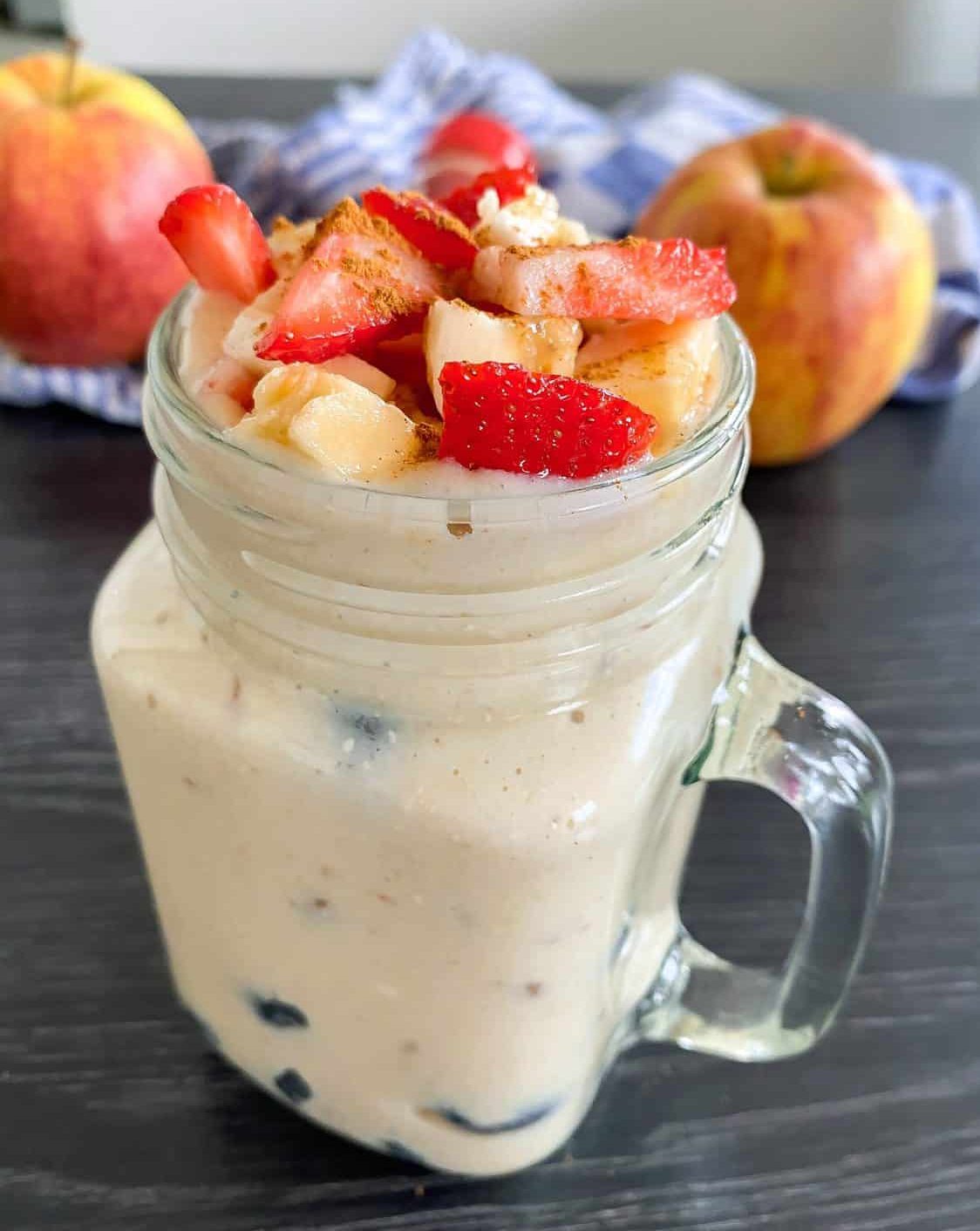 Ga jij deze smoothie met appeltaart smaak klaarmaken? Laat het me gerust weten door je lekkere creaties te delen op Social Media en mij te taggen in je posts. Zo kan ik meegenieten en watertanden van achter m'n schermpje.
---
Ben je een fan van roze smoothies? Probeer eens deze lekkere Pink Smoothie of Aardbeien Smoothie recepten. En voor zij die de groene, zoete verfrissing verkiezen, raad ik deze heerlijke spinazie-banaan smoothie aan.
---