Pompoen pannenkoekjes met Nutella eten als ontbijt tijdens de koude herfstdagen. Dat klinkt lekker, toch?! Ik ben enorm verzot op pompoen, en kijk jaarlijks uit naar deze tijd van het jaar. Dit lekkere receptje is echt gemakkelijk te volgen. Je moet dit oranje goedje écht eens klaarmaken.
De pannenkoekjes zijn gezond en smaken lekker zoet. Just how I like it.
Je kan de Nutella vervangen door een suikervrije chocolade pasta. Dat smaakt even goed!
Recept

: Pompoen pannenkoekjes met Nutella
Ingrediënten
125 g. pompoen puree
50 g. havermout
1 tl. bakpoeder
1 ei
1 tl. kaneel
50 ml. Alpro Coconut (of een andere plantaardige melk)
Nutella of een suikervrije variant chocolade pasta
Fruit om af te werken
Bereiding
Gooi alle ingrediënten samen in een blender en mix tot een glad beslag.
Verwarm een koekenpan op een middel-hoog vuurtje.
Smelt wat boter of kokosolie in de pan.
Verdeel 3 hoopjes beslag per keer in de pan en bak er kleine pannenkoekjes van.
Flip ze om wanneer de bovenkant droger begint te worden.
Besmeer elke pannenkoek met een laagje chocolade pasta. Herhaal deze stap tot je een mooie toren verkrijgt.
Werk af met stukjes vers fruit en nog extra wat chocolade pasta.
Serveer de pompoen pannenkoekjes met een dampende kop koffie en laat het smaken!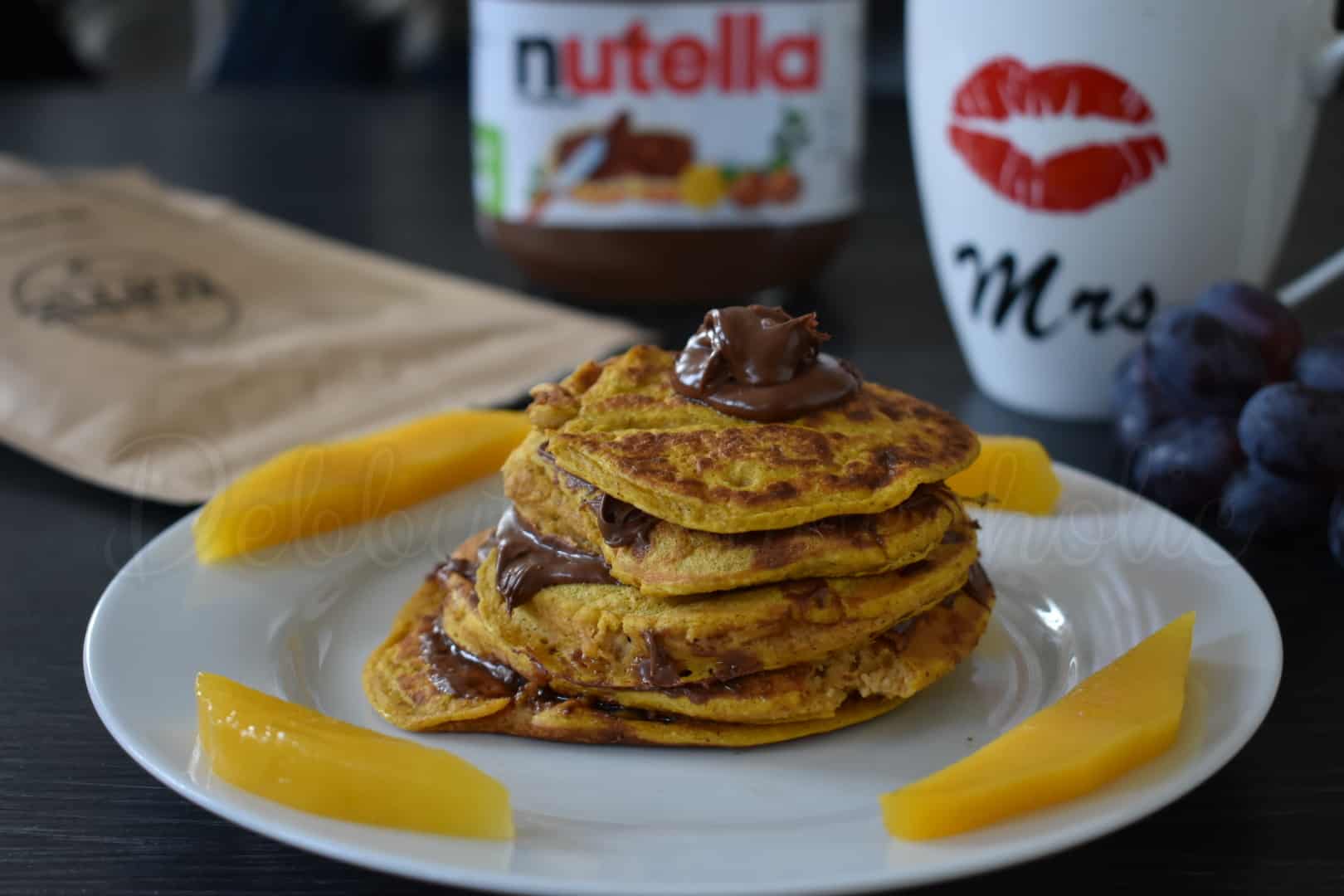 Zoek je meer ontbijtrecepten die weinig tijd in beslag nemen? Neem dan zeker een kijkje op onze Ontbijt Pagina en laat je verassen door allemaal lekkere gerechten.
Heb je één van mijn receptjes gemaakt? Kei tof! Ik zou het heel leuk vinden als je je lekkere creatie deelt op Sociale Media en de tags @debby_the_chocoholic en #debbythechocoholic vermeld in jouw post(s). Zo kan ik mee genieten van achter mijn schermpje.