De herfst en winter zijn niet bepaald mijn favoriete seizoenen. Dop koude dagen heb ik nood aan een warm ontbijtje met havermout. Zo maakte ik onlangs dit lekkere havermouttaartje uit de oven klaar. Het verwarmt je innerlijke foodie en je lichaam, genieten verzekerd! 
Dit ontbijt krijgt een plaatsje in mijn 'lijst van favoriete ontbijtjes', want het is lekker en gemakkelijk klaar te maken. En een extra pluspunt: je hebt maar 3 ingrediënten nodig.
Recept:

Havermouttaartje uit de oven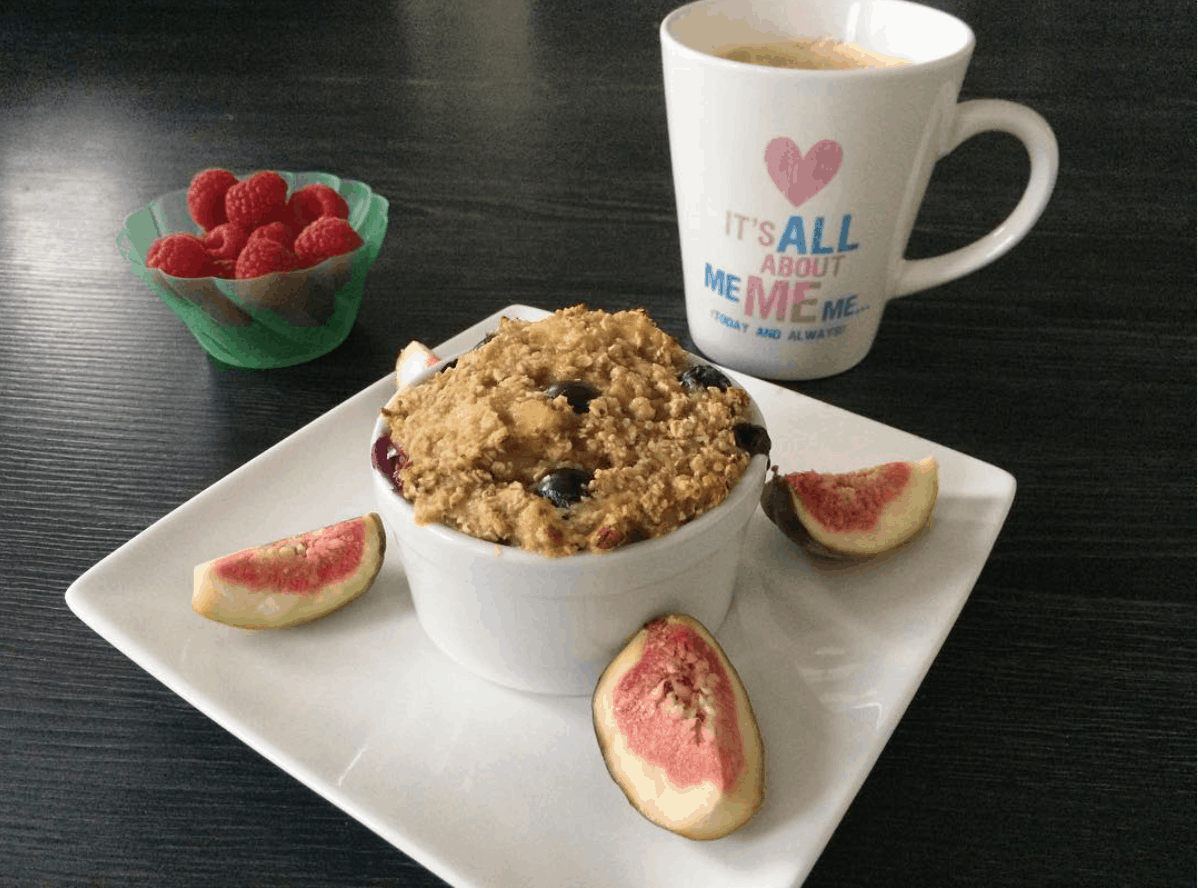 Ingrediënten
1 rijpe banaan

6 el. havermout

handje blauwe bessen en/ of rozijnen

kaneel naar smaak
Benodigdheden
Bereiding
Verwarm de oven voor op 180°C.

Neem een klein ovenschaaltje en vet deze wat in.

Plet de banaan fijn met een vork.

Voeg de havermout toe aan de banaan en roer met een vork door elkaar.

Vervolgens voeg je de kaneel en blauwe bessen en/of rozijnen toe. Meng doorheen het mengsel van banaan en havermout.

Giet het havermoutmengsel in het ovenschaaltje en plaats in de oven.

Bak het havermouttaartje gedurende 15 minuten tot de bovenkant een mooi goud-bruin kleurtje heeft. 

Haal de warme schaal voorzichtig uit de oven. 

Werk af met fruit en s

mullen maar!
Heb je dit Havermouttaartje uit de oven klaargemaakt?
Laat het me weten wat je er van vond via onderstaande comments – Instagram – of Facebook.
Op zoek naar meer ontbijtinspiratie?
Neem zeker een kijkje tussen mijn Ontbijtrecepten en Havermoutrecepten uit de oven.