Fudge, de naam alleen al doet het water in mijn mond lopen. Afgelopen week kwam ik op het fantastische idee om fudge naar een ander niveau te trekken. Ik vond een receptje voor pindkaas fudge, dat zag er heerlijk uit. Ik besloot iets toe te voegen aan het receptje omdat ik het gevoel had dat er iets mistte. Ra ra ra welk ingrediënt ontbrak er volgens mij?
Yup, helemaal juist: Chocolade! Want zeg nu zelf, wat zou een fudge zijn zonder een vleugje chocolade? In mijn ogen niks! Daarom besloot ik van deze lekkere Pindakaas Chocolade Fudge klaar te maken. Geloof me, dit is een ware foodgasm! 
Pindakaas- en chocoladelovers, deze is voor jullie!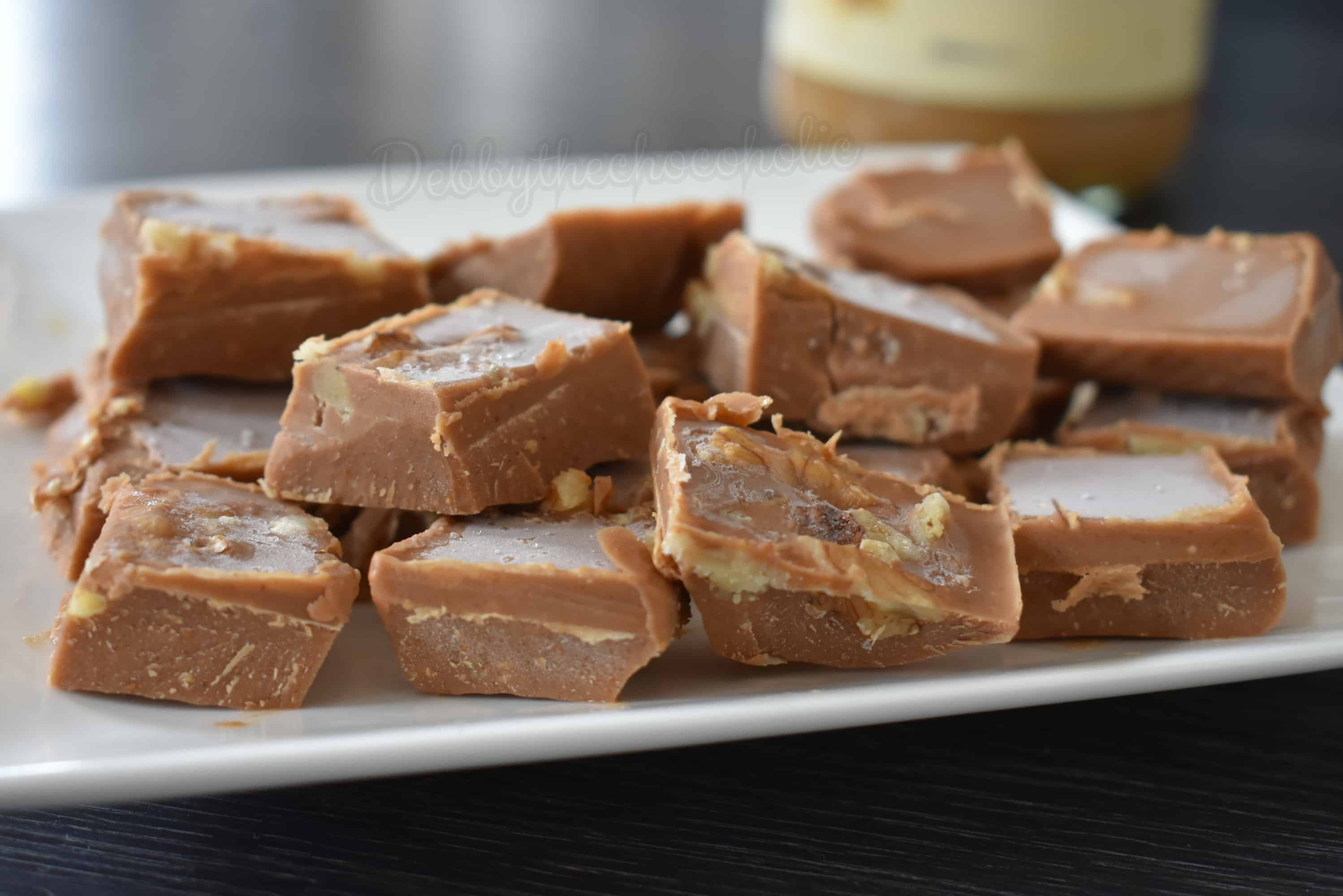 ---
Recept Pindakaas Chocolade Fudge
Ingrediënten
Bereiding
Breng een kom met water zachtjes bijna aan de kook, het mag dus niet koken (au bain-marie).
In een kleinere kom doe je alle ingrediënten – behalve het zout en de noten.
Laat de ingrediënten smelten en roer alles goed door elkaar.
Wanneer alles gesmolten en gemengd is, haal je het kommetje van het vuur.
Voeg het zout en de noten toe en meng alles nogmaals door elkaar.
Neem een bakje of bakvorm en leg hier een vel bakpapier in.
Giet het pindakaas mengsel in het bakje.
Plaats ongeveer 3u. in de vriezer.
Wanneer de fudge helemaal gehard is mag je het in stukken snijden.
Serveer koel en geniet!
---
Heb je dit receptje gemaakt?
Laat het me weten via:
♥️ INSTAGRAM – gebruik #debbythechocoholic en/ of tag me in je foto's.
👥 FACEBOOK – Vermeld Debbythechocoholic in je post.
💬 Onderstaande comments.
---
Meer Fudge recepten:
Gebroken chocolade – Chocolade-Amandel Fudge
---
Liefs,
Debby ♥
---