Vandaag bakken we heerlijke M&M koekjes met chocolade, een ideaal tussendoortje voor Pasen! Dit recept is in mijn ogen één van de lekkerste om te bereiden tijdens Pasen. Ze zijn niet alleen mega lekker, maar zien er ook leuk en kleurrijk uit! Ontdek een zacht koekje, met een lekkere smaak van chocolade en een extra bite dankzij de stukjes M&M's. Je smaakpappillen beginnen te dansen bij elke hap, geloof me maar!
Deze M&M koekjes met chocolade worden gegarandeerd een succes bij jouw familie, vrienden en gasten!
Las een baknamiddag in en maak dit recept klaar samen met je (klein)kinderen. Creëer nieuwe herinneringen en geniet van de extra tijd samen. Het resultaat is veel gelach, bakplezier en uiteraard een heerlijk M&M koekje!
Recept

: M&M koekjes met chocolade
Ingrediënten:
175 g. bakbloem
100 g. ongezouten boter (op kamertemperatuur)
25 g. cacao poeder
1 ei (op kamertemperatuur)
140 g. bruine suiker
1 tl. vanille essence of 8 g. vanillesuiker
1 tl. bakpoeder
snufje zout
M&M's naar keuze (*)
(*) Ik gebruikte de M&M's Easter Eggs, maar je kan gerust een andere soort gebruiken. Of laat dit gedeelte vallen en geniet van een zacht chocoladekoekje met dikke stukjes chocolade in.
Bereiding:
Crush de M&M's in kleinere stukjes en leg even opzij.
Verwarm de oven voor op 170°C en bekleed een bakplaat met een vel (anti-kleef) bakpapier.
Neem een mengkom en mix de zachte boter samen met de suiker(s) tot een smeuïge massa.
 Voeg het ei en de vanille essence toe en mix opnieuw.
Meng het bloem, zout en bakpoeder doorheen het natte mengsel. Zorg dat alles goed opgenomen wordt.
Als laatste doe je de gecrushte M&M's bij de deegbal.
Rol kleine balletjes uit het deeg en dip de balletjes voorzichtig in de rest van de stukjes M&M's.
Schik de koekjes op de beklede bakplaat en laat ongeveer 2-3 centimeter ruimte tussenin.
Duw ze wat platter met je hand of de achterkant van een eetlepel.
Schuif de bakplaat in de oven en bak de M&M koekjes met chocolade gedurende 10 minuten. Ze zullen er 'fluffy' en dikker uitzien en je keuken vult zich met de lekker geur van versgebakken koekjes. 
Laat de chocoladekoekjes even harder worden op de warme plaat, alvorens ze te verplaatsen naar een koelrooster.
Serveer met een warm kopje koffie of thee. Smullen maar!
Dit vind je vast ook lekker:
Ga je deze lekkere M&M koekjes met chocolade klaarmaken?
Deel jouw lekkere baksels met mij via Social Media. Dit doe je door Debbythechocoholic te taggen in jouw foto's of videos. Vermeld ook de hashtag #debbythechocoholic, dit maakt het gemakkelijker om jouw posts terug te vinden mits ik niet elke notificaties zie.
Ik ben heel benieuwd naar jouw creatie!
---
Grab your copy of 'My Cookie Pleasures', my 1st BAKING E-BOOK!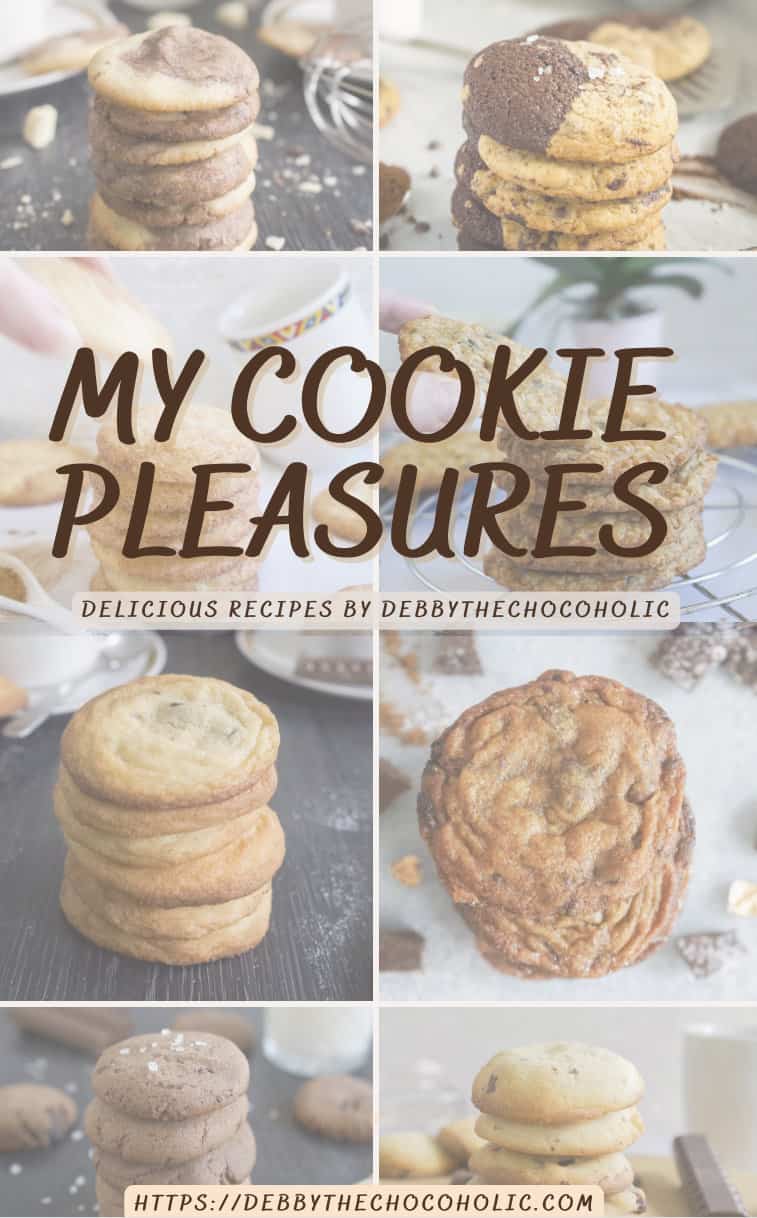 IT'S FINALLY HERE! 'My Cookie Pleasures' aka. my first baking book ever (of many more to come)! I know you have been waiting impatiently for me to create a cook book with my recipes and now it is finally happening! Find 20 of my favorite cookie recipes (including my most famous Chewy Chocolate Chunk Cookies) and learn how to create the perfect cookie each time.
My Cookie Pleasures is a must-have cooking book for at home bakers!
---
Join the Cookie Tribe by signing up to our Newsletter!
Never miss out on any of our new blogposts and updates by signing up to our newsletter. Click on the pink button below to join the Cookie Tribe!
I promise I won't spam you with daily or weekly e-mails, because I personally HATE being spammed with e-mails and promotions! I'll only reach out to you about anything that is important and relevant.