Are you ready for a delicious Fall recipe? This time we are baking Apple Cupcakes with Raisins. Discover a moist and fluffy vanilla cupcake, stuffed with dried raisins and pieces of freshly picked apples. Sounds like a yummy explosion of flavors, doesn't it?
I feel like Fall is the perfect season to bake anything with apples as main ingredient. I've been baking these sweet apple cupcakes for many years now and must admit that it's still my all-time favorite kind of cupcake! Even Mr. Boyfriend is a huge fan of these and always looks forward to me baking them.
With this easy-to-follow recipe I would like you to experience the same feeling of joy and happiness by creating a perfect soft and sweet cupcake to treat yourself and your beloved ones with.
Recipe:

Apple Cupcakes with Raisins (12 pieces)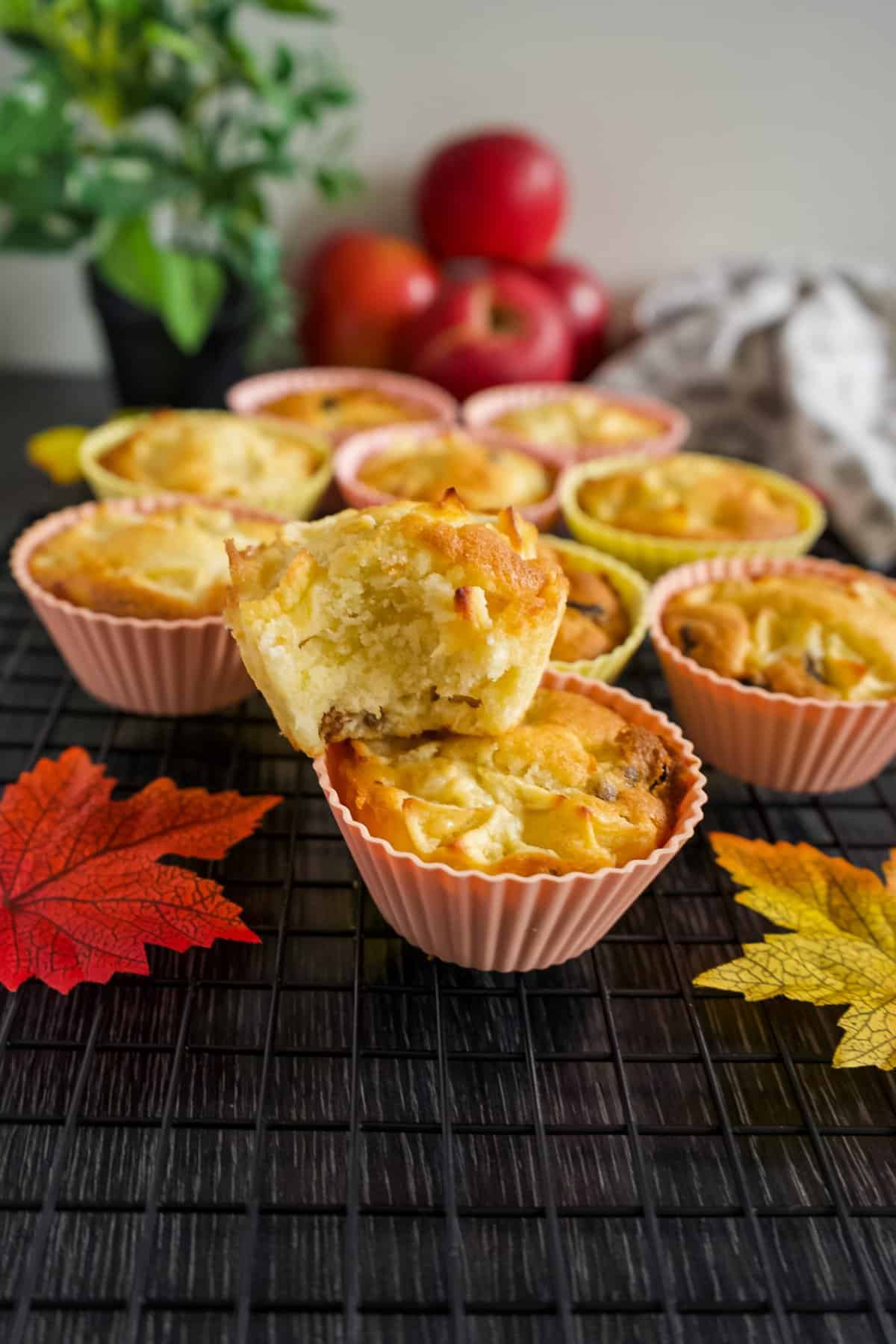 Ingredients
125 g. butter (softened)
125 g. all-purpose flour
92 g. granulated sugar
8 g. vanilla sugar
2 eieren (at room temperature)
½ tsp. baking powder
25 ml. semi-skimmed milk
1 big apple
2 hands dried raisins
Preparation
Preheat an oven to 175°C.
Fill a 12 cupcake tray with (silicon) cupcake liners.
Peel the apple and cut into smaller pieces. Put aside.
Mix the sugars and butter together until creamy and lightly yellow.
Once this butter/sugar mixture is beaten well, add the eggs, vanilla and semi-skimmed milk and beat to combine.
Fold in flour, baking powder and salt until combined.
Then add the apple pieces and dried raisins and whisk until they are evenly distributed throughout the dough.
Carefully spoon the mixture into the 12 cupcake cases.
Feel free to add some extra apple pieces on top of each cupcake.
Bake for 25 minutes until the tops become golden brown. You can also do the toothpick-check by placing a toothpick at the center of one cupcake. If it comes out drie, your cupcakes are done.
Allow the freshly baked apple cupcakes with raisins to cool in the baking trays itself before transferring them onto a cooling rack.
Store in a closed box at a dark space.
Serve with a cup of coffee or tea and E N J O Y!
I hope you are going to enjoy these moist and fluffy apple cupcakes with raisins! Please share your baked goods with me on Social Media by tagging Debbythechocoholic in your photos and videos. Also add the hashtag #debbythechocoholic to your posts, which makes it easier to find your posts (since I sometimes miss out on notifications). I can't wait to see the result of your creation of these apple cupcakes with raisins!
Baking Tip:
You might also enjoy the basic version of these cupcakes. Click here for the original recipe.
DID YOU KNOW that I have launched my FIRST BAKING BOOK ever? Discover 'My Cookie Pleasures' NOW!
IT'S FINALLY HERE! 'My Cookie Pleasures' aka. my first baking book ever (of many more to come)! I know you have been waiting impatiently for me to create a cook book with my recipes and now it is finally happening! Find 20 of my favorite cookie recipes (including my most famous Chewy Chocolate Chunk Cookies) and learn how to create the perfect cookie each time.
My Cookie Pleasures is a must-have cooking book for at home bakers!
Join the Cookie Tribe by signing up to our Newsletter!
Never miss out on any of our new blogposts and updates by signing up to our newsletter. Click on the pink button below to join the Cookie Tribe!
I promise I won't spam you with daily or weekly e-mails, because I personally HATE being spammed with e-mails and promotions! I'll only reach out to you about anything that is important and relevant.