Kaneelrollen vind ik echt zo lekker en ze zijn ook nog eens gemakkelijk om klaar te maken. Een ideaal recept om jezelf en je geliefden mee te verwennen. Je kan de kaneelrollen serveren als ontbijt, maar ook als vieruurtje. Een heerlijke zoete zonde die je doet genieten bij elke hap. 
Recept:

Kaneelrollen 
Ingrediënten
1 rol bladerdeeg (kant-en-klaar)
100 g poedersuiker
1 à 2 tl. kaneel (naar gelang je liefde voor kaneel)
45 g. boter
3 el. warm water
optioneel: rozijnen
Bereiding:
Verwarm de oven voor op 180°C.
Smelt de boter in een pannetje, of in de microgolf.
Meng de poedersuiker met de kaneel en zorg dat er geen klonters overblijven.
Rol het bladerdeeg uit tot een vel. Prik kleine gaatjes met een vork.
Strijk ongeveer 4 eetlepels gesmolten boter over het deeg.
Strooi er het mengsel van suiker en kaneel over en verdeel over het oppervlak.
Voeg eventueel wat rozijnen toe.
Rol het deeg tot een worst en snij in gelijke stukken.
Bekleed een bakplaat met bakpapier.
Schik de kaneelrollen op de plaat.
Bak gedurende 15 à 20 minuten.
Glazuur maken: Meng de overgebleven boter samen met het de suiker en kaneel. Klop er één eetlepel warm water door en meng tot een papje. Herhaal de stap van het water 2 maal.
Eens je kaneelrollen klaar zijn, haal je ze uit de oven.
Werk af met het glazuur.
Laat afkoelen en serveer als tussendoortje tijdens je thee- of koffiepauze.
Of eet dit lekkers als ontbijt. Niet gezond, maar wel hemels lekker!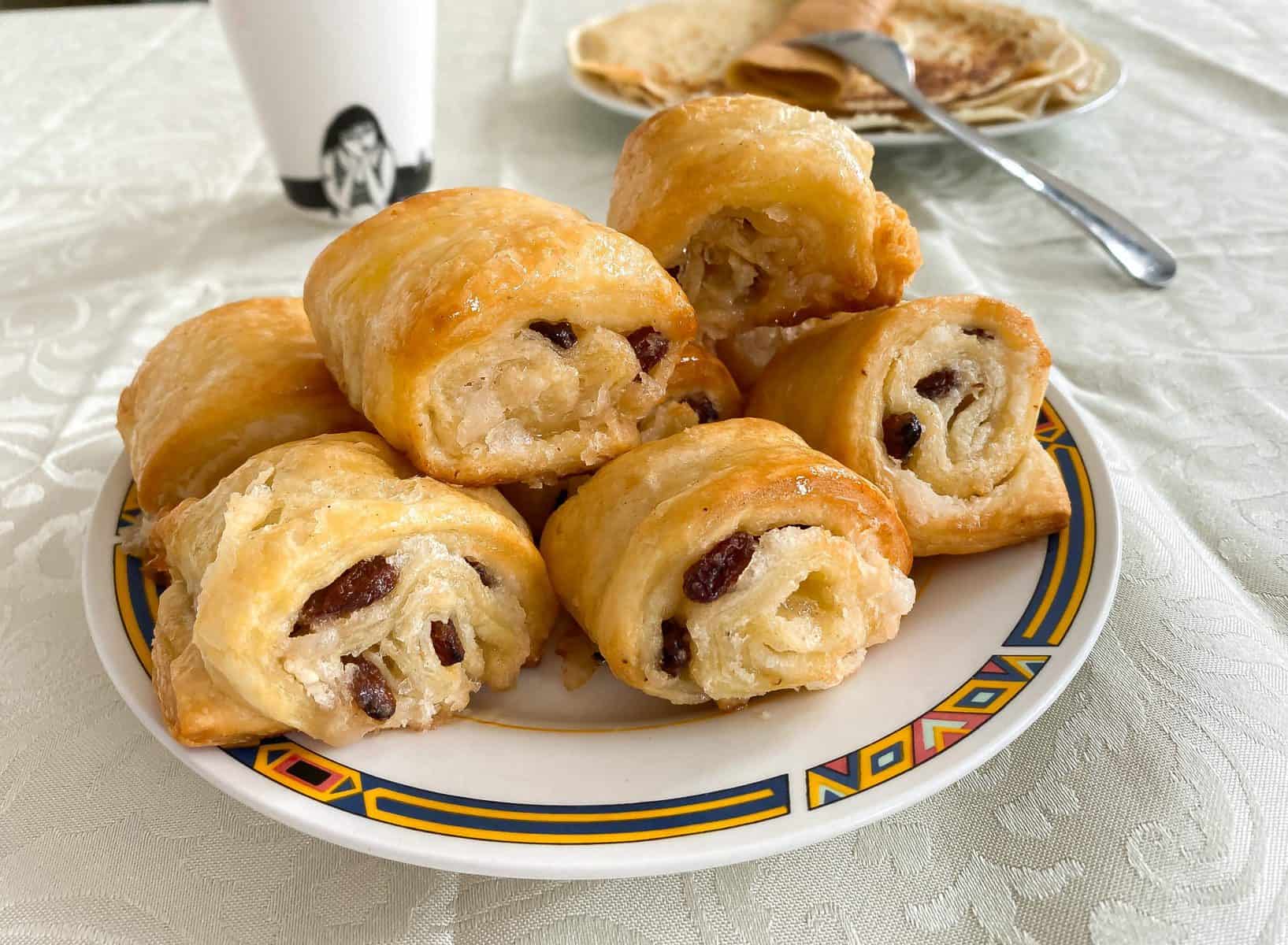 Ga jij dit gemakkelijke recept om zelf je kaneelrollen te bereiden uitproberen? 
Deel gerust jouw creaties op Sociale Media en laat me meegenieten van jouw, met liefde bereidde, lekkernij!
Op zoek naar andere lekkere recepten om je vingers van af te likken? Zoek niet langer, want hier heb ik allerlei lekkere inspiratie voor jou: 
Marmercake om je vingers van af te likken
Crunchy Havermoutkoekjes
Nutella Chocolate Chip Cookies