Hebben jullie ooit al marmermuffins gegeten? Ik hou van de combinatie vanille en chocolade, en zette met dit recept de eerste Baking Sunday van 2022 in. Het resultaat is een smeuïge muffintextuur waarbij je geniet van elke hap (zeker als ze vers uit de oven komen). De smaak bezorgd je een ware foodgasm om het zo te zeggen. Je moet het eigenlijk gewoon zelf ontdekken om helemaal te begrijpen wat ik bedoel.
Dus.. Ben je benieuwd naar dit gemakkelijke recept en wil je meteen aan de slag gaan in de keuken? Scroll dan zeker verder en bereid je voor op yumminess overload!
Recept:

Marmermuffins (12 muffins)
Ingrediënten:
180 g. bloem
200 g. witte suiker
180 ml. (olijf)olie
4 eieren
2 el. cacaopoeder
30 ml. halfvolle melk
16 g. vanillesuiker
1 tl. bakpoeder
Benodigdheden:
bakvorm(en) voor 12 muffins
siliconen muffinvormpjes
handmixer
2 mengkommen
Bereiding:
Verwarm de oven voor op 170°C.
Bekleed de bakvormen met de muffinvormpjes.
Neem een mengkom en klop hierin de eieren en suikers tot een smeuïge en lichtgele massa.
Voeg de olijfolie, bloem en melk toe en mix tot een mooi geheel.
Als laatste meng je het bakpoeder doorheen het muffinbeslag.
Verdeel het beslag over twee mengkommen.
Aan de ene mengkom voeg je cacaopoeder toe. Meng alles tot een klonter vrij beslag.
De andere mengkom is voor het vanillebeslag.
Neem de bakvormen erbij.
Vul de muffinsvormpjes met 1/4 vanillebeslag en 1/4 chocoladebeslag. Je mag wat meer beslag toevoegen, maar zorg dat de vormpjes niet te vol gevuld zijn.
Gebruik een satéprikker of tandenstoker en draai (aka. swirl) alles de beslagjes door elkaar om een marmereffect te verkrijgen.
Schuif de bakvormen in de oven.
Bak gedurende 15 à 20 minuten tot de bovenkant mooi goudbruin ziet.

Testing time!


Prik een satéprikker in de kern van de muffin. De baksels zijn goed wanneer er geen beslag aan de satéprikker hangt.
Laat de marmermuffins afkoelen op in de bakvormen alvorens ze uit de vormpjes te halen.
Verplaats de muffins naar een koelrooster waar ze verder kunnen afkoelen.
Bewaar in een afgesloten doos.
Ga jij deze lekkere marmermuffins bereiden?
Deel het resultaat van jouw marmermuffins met Debbythechocoholic via Social Media. Tag ons in jouw foto's of videos en vermeld de hashtag #debbythechocoholic. Zo kan ik mee genieten van jouw lekkere creaties.
Ik ben alvast heel benieuwd!
Dit vind je vast ook lekker:
---
Grab your copy of 'My Cookie Pleasures', my 1st BAKING E-BOOK!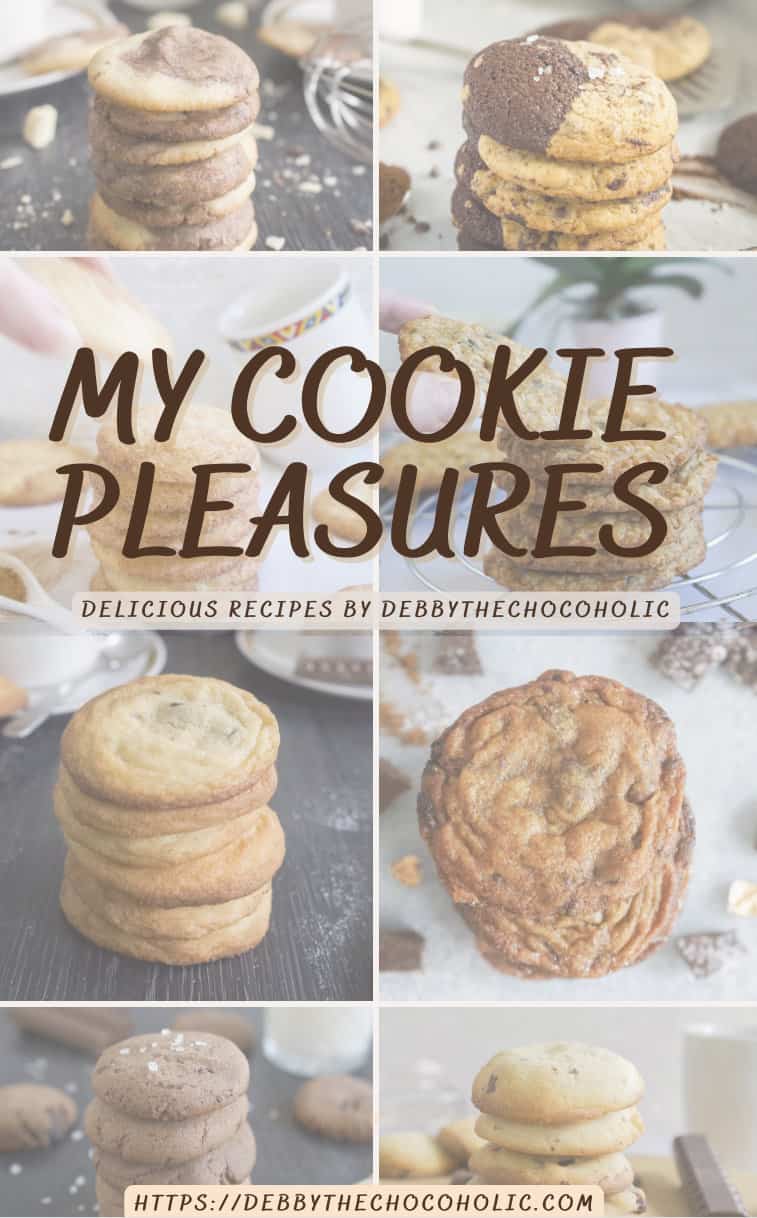 IT'S FINALLY HERE! 'My Cookie Pleasures' aka. my first baking book ever (of many more to come)! I know you have been waiting impatiently for me to create a cook book with my recipes and now it is finally happening! Find 20 of my favorite cookie recipes (including my most famous Chewy Chocolate Chunk Cookies) and learn how to create the perfect cookie each time.
My Cookie Pleasures is a must-have cooking book for at home bakers!
---
Join the Cookie Tribe by signing up to our Newsletter!
Never miss out on any of our new blogposts and updates by signing up to our newsletter. Click on the pink button below to join the Cookie Tribe!
I promise I won't spam you with daily or weekly e-mails, because I personally HATE being spammed with e-mails and promotions! I'll only reach out to you about anything that is important and relevant.
---