Afgelopen weekend bakte ik heerlijke Blueberry Cupcakes. Ik hou ervan van fruit te verwerken in gebak. Meestal maak ik mijn befaamde Appel Cupcakes klaar, maar deze keer had ik zin in iets met blauwe bessen en ging ik aan de slag in mijn keuken. Het bakproces resulteerde in luchtige en smeuïge cupcakes die goedgekeurd werden door mijn schoonmoeder en haar bezoek.
Hopelijk voldoet dit cupcake recept aan jouw verwachtingen en smul jij binnen enkele uurtjes van een lekker tussendoortje. Klaar om te bakken? Here we go!
Recept

: Blueberry Cupcakes (12 cupcakes)
Ingrediënten:
bevroren blauwe bessen (naar keuze)
2 eieren
125 g. boter (op kamertemperatuur)
100 g. suiker
8 g. vanillesuiker
125 g. bakbloem
½ tl. bakpoeder
snufje zout
25 ml. halfvolle melk
Benodigdheden:
2 muffin bakvormen
12 cupcake vormpjes
eetlepel
mengkom
(hand)mixer
spatel
Bereiding:
Verwarm een oven voor op 175°C.
Bekleed 2 muffin bakblikken met cupcake vormpjes.
Doe de blauwe bessen in een schaaltje en voeg wat bloem toe. Schud tot de bessen bedekt zijn met een fijn, wit laagje.
Neem een mengkom en mix de boter en suikers samen tot een smeuïge massa.
Voeg de eieren en halfvolle melk toe. Mix alles goed door elkaar.
Spatel voorzichtig de bakbloem, zout en bakpoeder doorheen het beslag.
Meng er de blauwe bessen doorheen.
Schep met een eetlepel het beslag in de cupcake vormpjes.
Schuif de bakvormen in de voorverwarmde oven. Bak gedurende 25 minuten tot de bovenkant goudbruin ziet.
Verwijder de vormen voorzichtig uit de oven en laat de blueberry cupcakes afkoelen in de vorm zelf.
Verplaats naar een koelrooster of bewaar in een afgesloten doos. Serveer als tussendoortje bij je volgende koffiepauze.
Smullen maar!
Dit vind je vast ook lekker:
Probeer zeker mijn favoriete en befaamde Appel Cupcakes recept!
Of bak misschien deze Marmer Muffins, een heerlijke combinatie van vanille en chocolade.
Heb je deze Blueberry Cupcakes klaargemaakt?
Deel jouw lekkere baksels met mij via Social Media. Dit doe je door Debbythechocoholic te taggen in jouw foto's of videos. Vermeld ook de hashtag #debbythechocoholic, dit maakt het gemakkelijker om jouw posts terug te vinden mits ik niet elke notificaties zie.
Ik ben heel benieuwd naar jouw creatie!
---
Grab your copy of 'My Cookie Pleasures', my 1st BAKING E-BOOK!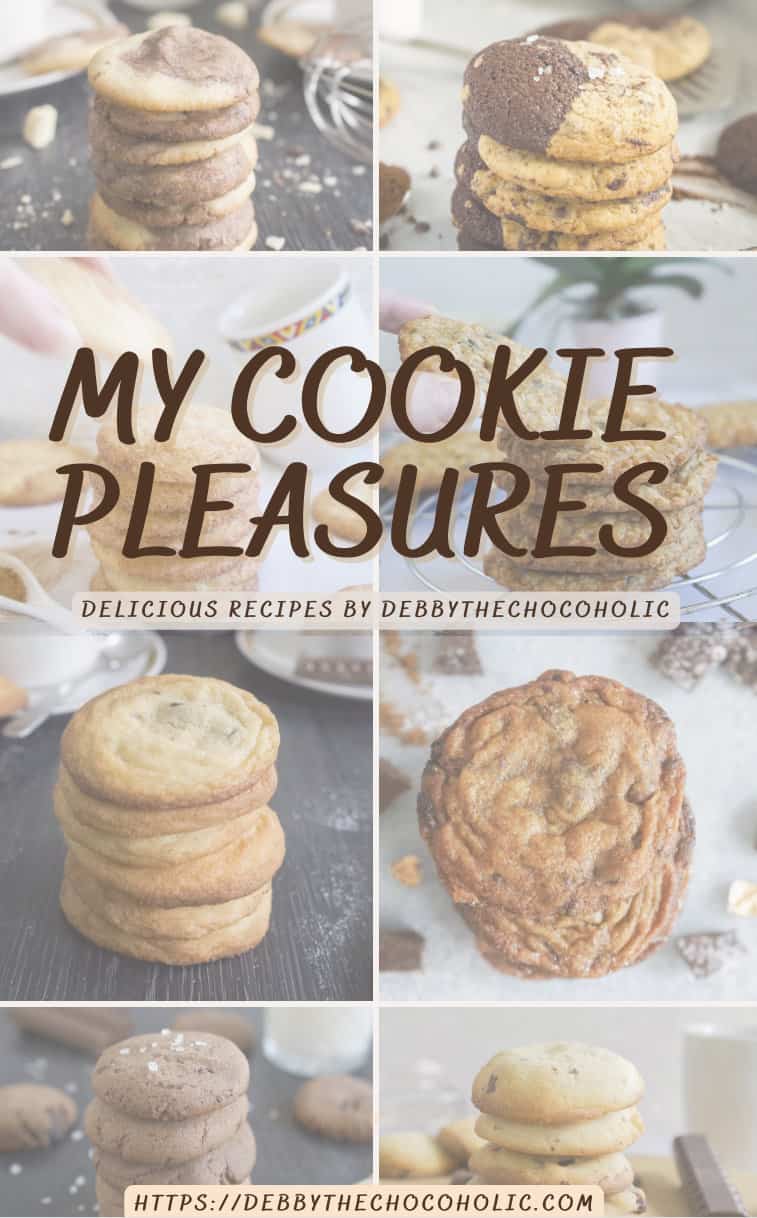 IT'S FINALLY HERE! 'My Cookie Pleasures' aka. my first baking book ever (of many more to come)! I know you have been waiting impatiently for me to create a cook book with my recipes and now it is finally happening! Find 20 of my favorite cookie recipes (including my most famous Chewy Chocolate Chunk Cookies) and learn how to create the perfect cookie each time.
My Cookie Pleasures is a must-have cooking book for at home bakers!
---
Join the Cookie Tribe by signing up to our Newsletter!
Never miss out on any of our new blogposts and updates by signing up to our newsletter. Click on the pink button below to join the Cookie Tribe!
I promise I won't spam you with daily or weekly e-mails, because I personally HATE being spammed with e-mails and promotions! I'll only reach out to you about anything that is important and relevant.