Baking Sunday bracht me: zelfgemaakte kruidnoten van kaneel en cacao. Een ideale snack om van te smullen tijdens een gezellige Kerstfilm marathon. Wist ik maar eerder dat het zo gemakkelijk is om je eigen kruidnoten te maken! Dan had ik ze nooit gekocht in de winkel, haha. 
Persoonlijk vind ik kruidnoten uit de winkel te zoet en geraak ik de smaak rap beu. De zelfgemaakte variant daarentegen is super lekker! Je hebt controle over de hoeveelheid suiker, kaneel en cacao, waardoor het letterlijk een tussendoortje naar jouw smaak is.
Benieuwd hoe je deze kruidnoten van kaneel en cacao in no time op tafel tovert? Scroll snel verder en ontdek het geheim,… euhm, recept.
Recept:

Kruidnoten van kaneel en cacao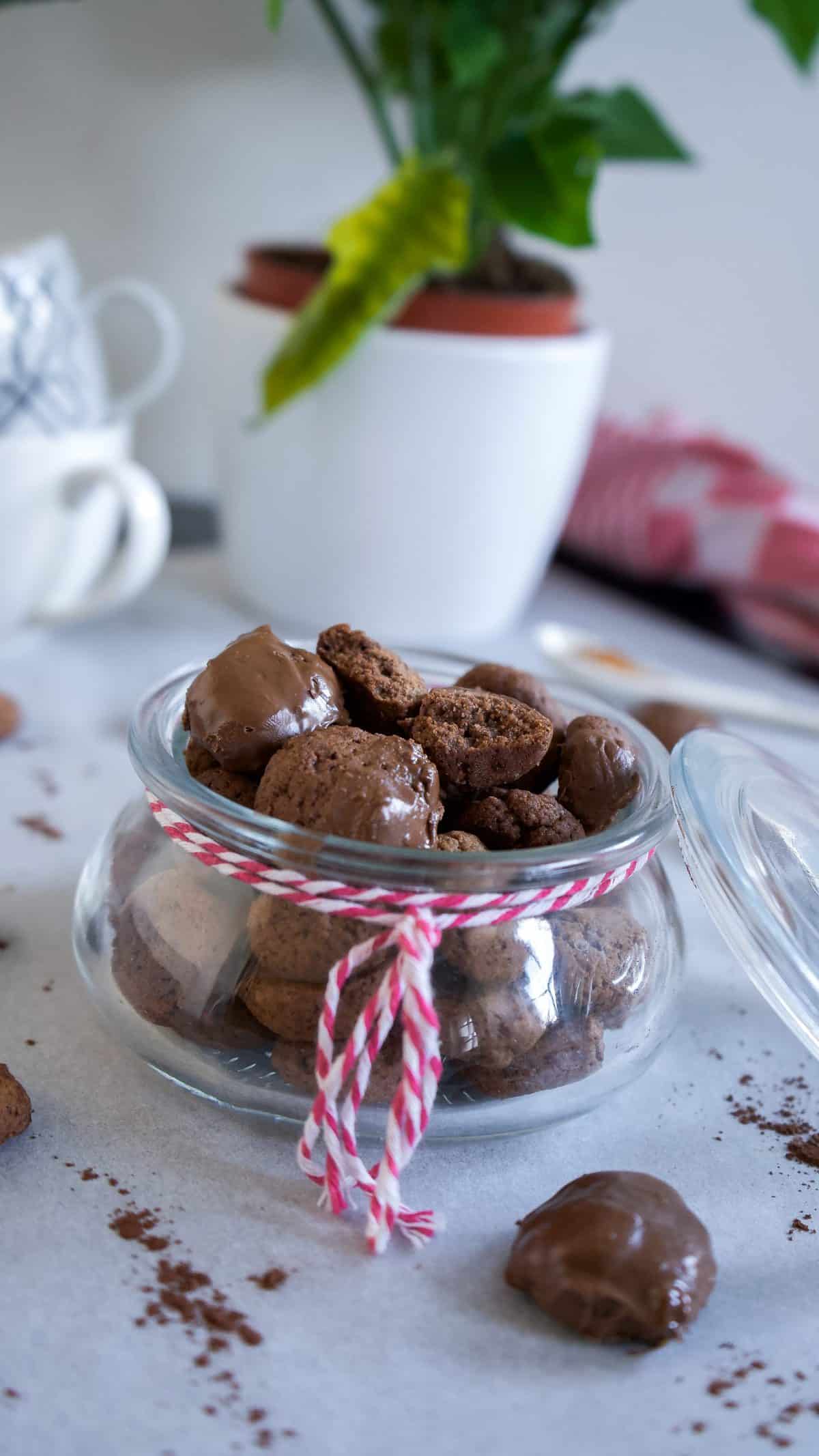 Ingrediënten
100 g. zelfrijzende bloem
50 g. bruine suiker
1 tl. cacao
1 tl. kaneel
snufje zout
40 g. koude boter
36 ml. halfvolle melk
Tip: Je kan de kaneel en cacao vervangen door speculaas- of koekkruiden.
Bereiding
Verwarm de oven voor op 170°C.
Bekleed een bakplaat met bakpapier
Meng bloem, zout, kaneel en cacao met een vork.
Voeg stukje per stukje de koude boter en de melk toe.
Kneed met je handen tot een stevige deegbal.
Is het deeg nog te zacht? Plaats de mengkom minstens 10 minuten in de koelkast. Het deeg mag namelijk niet te warm zijn, anders lopen de koekjes uit tijdens het bakproces.
Rol kleine balletjes uit het deeg en schik op de bakplaat.
Bak gedurende 20-25 minuten.
Laat de kruidnoten van kaneel en cacao wat harden op de plaat.
Bewaar in een afgesloten doos en op een donkere plaats.
Serveer als snack bij je volgende film- of serie avond.
Ga jij deze lekkere kruidnoten van kaneel en cacao klaarmaken…?
…of heb je zelf een kruidnoten recept waarvan je denkt dat ik het moet proberen?
Deel jouw creaties of recepten met Debbythechocoholic via Instagram. Indien je dit recept bereid hebt, kan je ook het resultaat delen met jouw online community. Vergeet ook niet van me te taggen (gebruik de hashtag #debbythechocoholic), zodat ik kan meegenieten van jouw lekkers.
Dit vind je vast ook lekker:
---
Grab your copy of 'My Cookie Pleasures', my 1st BAKING E-BOOK!
IT'S FINALLY HERE! 'My Cookie Pleasures' aka. my first baking book ever (of many more to come)! I know you have been waiting impatiently for me to create a cook book with my recipes and now it is finally happening! Find 20 of my favorite cookie recipes (including my most famous Chewy Chocolate Chunk Cookies) and learn how to create the perfect cookie each time.
My Cookie Pleasures is a must-have cooking book for at home bakers!
---
Join the Cookie Tribe by signing up to our Newsletter!
Never miss out on any of our new blogposts and updates by signing up to our newsletter. Click on the pink button below to join the Cookie Tribe!
I promise I won't spam you with daily or weekly e-mails, because I personally HATE being spammed with e-mails and promotions! I'll only reach out to you about anything that is important and relevant.